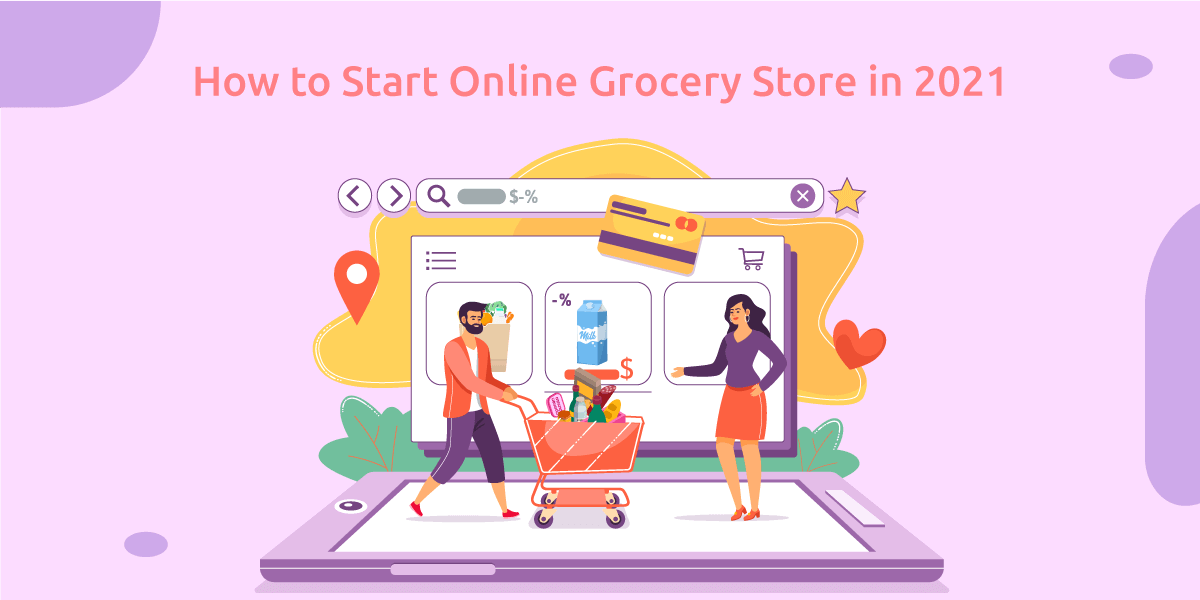 How to start Online Grocery Store in 2021
Online grocery stores are rapidly growing in today's times. Due to the pandemic, consumers are shifting towards online shopping instead of getting out to grocery stores and purchasing.
Grocery e-commerce business is a booming industry and was valued at more than $100 billion in 2020.
According to a research done by Orian, the global online grocery stores would grow with a compound annual growth rate (CAGR) of more than 23% between the year 2020 to 2025.
Another research concludes that the grocery e-commerce business will be expected to reach $250 Billion within the next five years.
After the world experienced a global pandemic, the technology around us and the lifestyle of people are focusing more on digital things. Due to this the e-commerce grocery stores too gets a boost and they developed very quickly.
In the first few months of the pandemic world experienced around a 40% increase in sales of online grocery sales.
Benefits of Starting an Online Grocery Business Now-
Increasing demand for Online Grocery Stores-
A sudden increase in the demand for online grocery sales in the pandemic will continue its growth in the same way. This is seen as a boon in the coming years.
A study shows that the grocery e-commerce business will cover more than 21% of the total grocery sales by 2025.
Pandemic Boost to the Industry-
The studies estimate that the growth of the grocery e-commerce business will be $250 Billion by 2025, which is 60% more than the statistics studies show before the pandemic.
The Rapid Adoption of Grocery Automation-
Some grocers have seen two or even three times more order volume in the pandemic. This rapid growth even continued after the world sees relief in the number of cases. Expert says the online grocery stores will not face downfall after everything becomes normal.
Improving E-Commerce Affordability-
Grocers are looking to capture the shoppers and continuously update their online grocery sites to improve the discoverability of products and making interference easy to build personalized carts within budget.
Many experts stated and it is sure in 2021 that the grocery e-commerce business is going to expand more. There are many customers, who started buying online in pandemic and later stick to it because of more convenient, safe, and hectic free buying.
How to Start an Online Grocery Store-
Many businesses nowadays are planning to shift to the e-commerce industry. One of the popular e-commerce stores is online grocery stores.
Let's check out the steps and whole process to create an online store.
1. Understand and Research the Business-
First, make a blueprint of the working of your online grocery store.
2. Identify a Target Location/Audience-
Identify your target location and accordingly decide your storage location, so that you can serve your customers on time.
3. Identify the Model that Suits you the Best-
Plan, where you will store the grocery. You can operate a warehouse your own or can collaborate with a local shop to sell groceries on your online store and order shop owner to deliver them to customers. 
4. Decide a Product List and Make a Catalog-
Plan the proper inventory management and create a product catalog in advance.
5. Set-up a Delivery System-
You need to set up a very efficient delivery system so you can deliver the grocery to customers on time.
6. Plan payment methods-
Plan and provide multiple payment options to the customers. The payment options you can add in your e-grocery store can be Cash on delivery, pay in-store, UPI, Google Pay, PayPal, or Debit/Credit Cards.
7. Contact a Developer to Create an E-Store-
Now, you need to contact developers to create an online grocery store for your business. Make him understand all your needs so he can develop a store accordingly.
8. Create a marketing plan-
The online store is a highly growing industry with lots of competition.  So, there's a need to create a good marketing plan for your business.
These are all the steps you need to follow to start your online business.
Online businesses have a great scope in the coming future and the Covid pandemic also gives a great boost to the grocery e-commerce businesses.
So, this a good time to enter into the business and earn profits.
Interesting Facts about Online Stores-
Want to Start Your Online Grocery Store?-
If you want to start a grocery e-commerce business or want to build an online grocery store, you can outsource your work to Erginous Technologies.
Erginous Technologies is a website and mobile app development company that can help you create your personalized e-grocery store at affordable and genuine rates.